Memorial concert in Albuquerque
---
NOTE: This was written by Stephen Housewright in 1994.
---
The seventh concert in tribute to Jerry Hunt was given at the Outpost Performance Space in Albuquerque on Saturday evening, June 18, 1994. Pauline Oliveros performed, using several of Jerry's video works; she was assisted by Ione, Marguerite and Josephine. The evening was sponsored by the Nonsequitur Foundation, whose music gallery on Fifth Street concurrently displayed several hundred of the artifacts Jerry used in his video work and in performance. (Steve Peters came to Canton the previous weekend to select these objects and take them back to Albuquerque for the exhibition.)
Steve Peters welcomed the audience and talked a little about Jerry's work, pointing out that Jerry's interest in the occult had a playful dimension that adds a special element of pleasure to the usual bafflement audiences feel when exposed to the pieces. He then introduced Pauline Oliveros, whose remarks emphasized Jerry's originality; she made the comment that although Jerry might have been considered a "marginal" composer by the music establishment, "margins always surround the text".
The first piece was a showing of a video version Jerry made of his Birome [zone]: plane (fixture). Jerry performs this piece on a stool, waving objects, turning, gesturing, and responding in various ways to other objects that sometimes enter the viewing space from the sides. There is a musical accompaniment that is largely percussive in nature.
The second piece was a meditation led by Pauline, on the accordion, and accompanied by another videotape Jerry made of his performance artifacts moving through space (this tape was used by him as an adjunct in performance). Marguerite, Ione and Josephine meditated alongside Pauline, whose accordion sounds were sparse -- tones played from the keyboard, sometimes short, sometimes sustained, low notes from the bass buttons, some "scratching" of the bellows themselves.
After an intermission, the final piece, a "quintet", was performed. Marguerite appeared in black with her face swathed in gauze. She remained a ghostly presence at the grand piano, plucking the strings, striking the wood of the instrument, from time to time playing a few notes at the keyboard, and groaning, sighing, and even screaming intermittently. Ione, dressed in a gold and black sari, wandered around the performance space carrying a candle on a dish; her face, like Marguerite's was concealed.
Josephine approached the microphone dressed in a tight gold lamé gown, sleeveless to reveal the extensive tattoos on her arms. As she gently gyrated her hips and undulated her right arm and hand, she read excerpts from quotations taken from published interviews with Jerry. Many of these quotes about music and religion and Jerry's own work and reputation are funny, and some are disarmingly frank. Josephine read them in an exaggerated declamatory style, widely varying pitch and volume levels, sustaining and clipping phrases, and yet maintaining an expression on her face that suggested a distance from the content of the texts. She never stopped the regular motions of her body throughout the reading.
Pauline stood at one side of the space and blew on a conch, producing both staccato sounds and sustained, sometimes tremulous, sequences. The video monitors showed Jerry's Transform (stream): core, the piece he made wearing an Elizabethan collar, tonelessly whistling and blowing, making an infinite variety of facial expressions, and accompanied by a percussive soundtrack consisting mostly of rattles, bells and drums.
Like most of the other tributes, this evening paid homage to Jerry's life and art by evoking aspects of his nature and his work. The quintet "summonsed" Jerry's spirit in much the same way 77 Hz's Telephone Calls to the Dead did in New York last March. Jerry was first a pianist, but after meeting Cage in the 1960s he "played" the piano in ways that were no longer limited to the keyboard -- as Marguerite did. His earliest musical jobs were gigs with nightclub singers (and striptease artists), and he would very much have appreciated Josephine's presentation of his words. Ione's costume and candle reminded me of the East and all its occult associations; Jerry visited India, loved Indian food, and studied Indian religion. He often used common, "found" objects in making the sounds for his work, just as Pauline used the conch.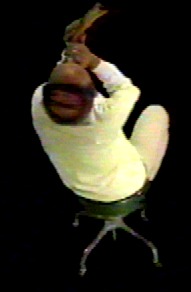 What was unique about the quintet was the inclusion of Jerry as a participant through the piece. The sounds on the videotape, but mostly his facial expressions (ranging from delight to incredulity to shock), made a kind of commentary on everything else that was happening, and there were some remarkable frissons when coincidences involving the quotes occurred.
Everything melded together, through a climactic moment and to the final words about the experience of being "reborn to sound" that Josephine read after the videotape had concluded. In a sense, it seemed, Pauline directed the piece from her conch, blowing the ensemble in one direction and then another, urging everything on. It is finally with the idea of breath that one is left -- an idea that emerged with the accordion bellows earlier in the evening, that reappeared in Jerry's breathy whistling (it always amused him that neither he nor his father could whistle in the conventional way), that was reinforced in Pauline's blowing into the shell (just as Jerry had used the stag horn), and that lingered in the quiet room when the tribute was done.


Original Material Copyright © 1994 by Stephen Housewright. HTML Coding Copyright © 2001 by Michael Schell. All Rights Reserved.