| | | |
| --- | --- | --- |
| | The Jerry Hunt Home Page | |
Welcome to the Jerry Hunt Home Page, the official Internet resource on the life and work of composer/intermedia artist Jerry Hunt. The following materials are available:
For an overview of Jerry's life and music, read the article Unlikely Persona: Jerry Hunt (1943-1993) by Michael Schell, the biography Partners by Stephen Housewright's biography, and the extensive interviews with Jerry by Gordon Monahan and Leon van Noorden. For a briefer introduction to his work, read Steve Peter's article Jerry Hunt: Performance Artifacts.
There is a discography and videography of Jerry's work (including Spotify and YouTube links, CDs, LPs, audiocassettes and videocassettes), as well as Jerry's own work listing. Jerry's notes on Birome (ZONE): Cube, Birome (ZONE): Cube [frame], Bitom (fixture): topogram, Fluud, Song Drapes, Talk (slice): double and Transform (stream): core are available. An audio file of Song Drape #2 is also accessible from this page.
See Jerry's official obituary notice and memorial texts by Joseph Celli and Rodney Waschka (the latter is an external link). Stephen Housewright has written reports on memorial concerts held in Albuquerque and Houston.
For Four Video Translations, read Michael Schell's liner notes and this text by Rod Stasick. For the Lattice CD, follow this external link to New World Recordings Web page to read Paul DeMarinis' liner notes and Jerry's notes to the original Irida LP release.
Jerry and Paul Panhuysen discuss their 1993 collaboration Marten Toonder's Studio in this article by René van Peer.
In Gesture Modulation of Templates, Jerry describes how he used the angelic tablets produced by the 16th Century mystics John Dee and Edward Kelley.
An unusual text is the transcript of Jerry's how-to videotape entitled How to Kill Yourself Using the Inhalation of Carbon Monoxide Gas, intended for use by sane adults with terminal or degenerative illnesses.

The Jerry Hunt Home Page is a project of Schellsburg in collaborative with the estate and archives of Jerry Hunt. Jerry's estate is managed by Steven Housewright, Jerry's partner in life, who has also contributed material to this site. The Jerry Hunt archives, including scores, installations, audiotapes and videotapes, are managed by Rod Stasick.

For more information or inquiries on Jerry's music, his scores, audiotapes, videotapes and installations, contact Rod Stasick. For questions concerning this site, contact the webmaster, Michael Schell.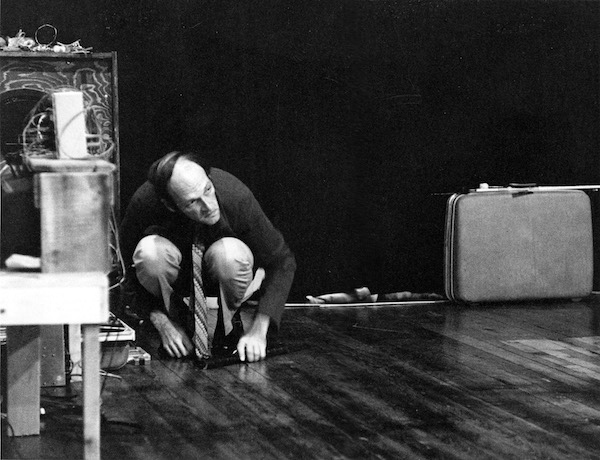 Jerry Hunt performing at Roulette, New York in 1983 (photo: Lona Foote)


Original Material and HTML Coding Copyright © 1999–2022 by Michael Schell. All Rights Reserved.